Queen backs Bramall:
Pride of place at Windsor Castle lunch for Lord Bramall after 92-year-old's sex abuse case just weeks after a dawn raid by 20 police officers and Bramall questioned over the  allegations.
In 2014, a man reported to the police that, as a boy in the 1970s, he had been sexually assaulted by Edwin Bramall.
The man making the allegation had been under 16 at the time of Field Marshall Bramall's supposed assault on him.
Prince Charles and the Queen, pictured with Lord Bramall in 1986
Lord Bramall attended Order of the Garter lunch just weeks after a dawn raid by 20 police officers.

He was driven in one of the Queen's cars to her chapel and stayed for the service.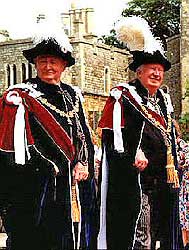 Bramall and Heath
Lord Bramall – will also be welcomed at this year's gala, one of the most prestigious events in the royal calendar.
It is understood the Queen may even offer him a place at her side as a public sign of support for Bramall whom she has known for more than four decades.
A source with close ties to the event revealed last night: 'Interestingly, she was planning to do so whether or not the war hero had been cleared by that time.'
(Bramall has not been cleared – the police found insufficient evidence…not the same as being cleared)

'The Queen can't overtly support him but there are more subtle ways that she can express her feelings on the issue. Seating him next to her is a significant way of doing that.'
He was 'warmly welcomed' by the Queen and other members of the Royal Family including Prince Philip, Prince Charles and Prince William as well as Prince Andrew, Prince Edward and Princess Anne.
This was taken by many to be a sign of their support – even though he was publicly under investigation as part of Operation Midland, Scotland Yard's historic VIP sex abuse unit.
…………………………………………………………………………………………………
August 2006
………………………………………………………………………………………………………
Queen Elizabeth and Greville Janner
Bramall in 1973
1966  Bramall and Janner's Frank Beck both in Borneo and Bramall on  Lord Mountbatten's staff from 1963.

Frank Beck 1959 -1969 Royal Marine
Emerging with an honourable discharge and campaign medals, Beck apparently turned down officer training and chose instead to train as a social worker. 
1969-1970 Beck Residential CCO Leicester PO Hostel
In 1991, after accusing LORD/MP Greville Janner of paedophilic behaviour with a teenager, Frank Beck was arrested and charged with the sexual and physical abuse of children in his care over a thirteen-year period.
At his trial Beck stated that: – "One child has been buggered and abused for two solid years by Greville Janner".
……………………………………………………………………………..
Bramall's Clubs
Famous members of Army & Navy Club:
Paedophile Peter Hayman (PIE member) and Edwin Bramall
Pie Member and paedophile Peter Hayman and wife Rosemary Eardley Blomefield (cousin to convicted paedophile, PIE member Charles Napier, John Whittingdale's half-brother)
………………………………………………………………………
"…a correspondence of an obscene nature between Sir Peter Hayman and number of other persons. The papers involved an obsession about the systematic killing by sexual torture of young people and children."
Outrageously and incomprehensibly, the Army & Navy Club still happily accept Peter Hayman
……………………………………………………………………………………………..
Lord Bramall was also in Traveller's Club with Hayman, Henniker and Blunt
The name of Hayman features once or twice in Bramall's visitors' book, when both men were serving in Germany in the Seventies.
………………………………………………………………………….
The Dorchester Hotel:  1990 Bramall director and chairman
Bramall 2004  consultant to Dorchester Hotel / Director of its pension fund-
via Troy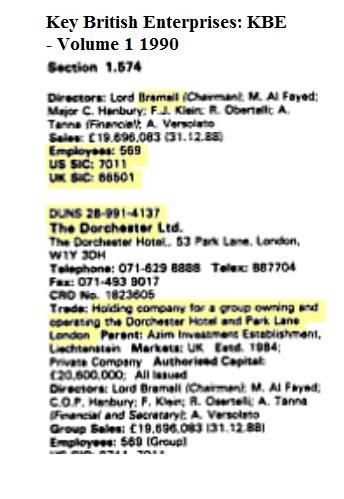 The Dorchester Hotel – very much an "Establishment" Hotel

The security services worked out of Alistair McAlpine family's Dorchester hotel during the war
Thatcher and her "Jolly Bagman" Alistair McAlpine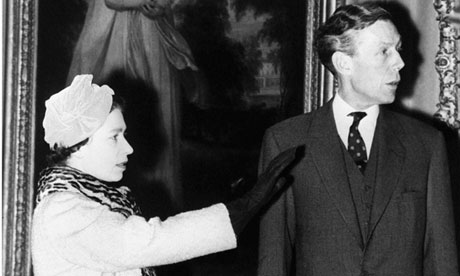 Queen Elizabeth II attended the Dorchester when she was a princess on the day prior to the announcement of her engagement to the Prince Philip, Duke of Edinburgh on 10 July 1947.
Prince Philip also held his stag night party at the hotel, which has been documented in a plaque.
Sir Philip Mountbatten, newly titled Duke of Edinburgh (front, centre) with fellow Royal Navy officers at his bachelor party at the Dorchester Hotel, London, 19th November 1947. Seated to the right of him is his uncle, Louis Mountbatten, 1st Earl Mountbatten of Burma (1900 – 1979). Philip is to marry Princess Elizabeth (later Queen Elizabeth II) the following day.
…………………………………………………………………………………………
Israeli Ambassador Shlomo Argov Argov, 52, was shot Thursday night as he left the swank Dorchester Hotel in Park Lane, where he had been attending a dinner for diplomats. Greville Janner, a family friend, said Argov has not regained consciousness.
Bramall's business partners :
Sir Geoffrey Pattie and Bramall – both partners in Terrington Management.
Sir Geoffrey Pattie, a former defence minister defends vicious paedophile (William Pate)

William 'Bill' Pate's specialism was the ligature round the neck all limbs tied style of rape where the victim risked being asphyxiated and having to be revived.
'all-party group of MPs'  campaigned for the release of paedophile William Pate convicted of  horrific crimes against children, and despite doctors at Broadmoor believing him to be 'a danger and not fit for release', the campaign was successful. In 1984 he was convicted yet again for paedophilia and 'sadistic homosexual practices' after imprisoning a young boy for 12 hours and abusing him.
http://hansard.millbanksystems.com/commons/1979/feb/22/mental-health-act-1959-review
via Karmic Kick
*One of Bramall's business partners, Nigel Godden, was Sussex police detective at time of Vishal Mehrotra murder*
Nigel Godden  Police Officer, Sussex Police –September 1975 to November 1988 (13 years 3 months)
Edwin Bramall lives at Bathurst House, Crondall 20 miles from Dursford Abbey Farm, where Vishal Mehrotra's remains found.
Vishal Mehrotra's father told the Telegraph that "I was contacted by a young man who seemed to be in his 20s. He told me he believed Vishal may have been taken by paedophiles in the Elm Guest House near Barnes Common. He said there were very highly placed people there. He talked about judges and politicians who were abusing little boys," he said.
Bramall's brother Ashley – a trustee and expert on housing law/Labour councillor/MP for Bexley/Dolphin Square trustee
1975/76: (PIE affiliated) Albany Trust provides training for ILEA on 'Adolescent Sexuality'
Ashley Bramall was in charge of ILEA then.
Jack Straw also chairman of governors for Pimlico Comp School with gov Ashley Bramall
Jack Straw  tried to pass legislation to make it illegal in Part 2 of the Children, Schools and Families Act 2010 or Children in Childrens Homes to speak out.
Jack Straw and Leon Brittan's cousin – Sir Malcolm Rifkind – in latest 'cash for access' scandal
…
Bramall and Associates: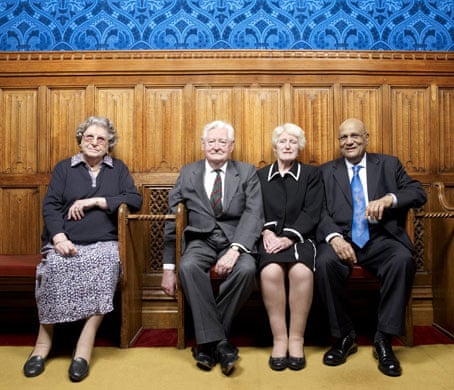 Lady Trumpington, Lord Bramall, Lady Butler-Sloss and Lord Paul
http://www.theguardian.com/news/datablog/2011/nov/08/1
http://mail.spinwatch.org/index.php/Geoffrey_Pattie
http://hansard.millbanksystems.com/commons/1979/feb/22/mental-health-act-1959-review
http://theukdatabase.com/2014/11/24/william-pate-hornsey/
www.checkcompany.co.uk/director/674790/NIGEL-CHARLES-GODDEN …
1978: MPs Successfully Campaign For The Release Of Sadistic Paedophile William Pate.
www.independent.co.uk/news/masterpiece-demolition-row-1168078.html …
en.wikipedia.org/wiki/Inner_London_Education_Authority …
securingasia.com/Speakers-Bios.aspx?id=1 …
www.telegraph.co.uk/news/investigations/11411007/Jack-Straw-and-S…
www.independent.co.uk/news/uk/this-britain/jack-straws-brother-gu...
 https://cathyfox.wordpress.com/2013/12/21/it-is-legal-for-children-in-children-homes-to-speak-out-against-abuse/
http://theukdatabase.com/councillorspolitical-party-affiliated/cover-ups/
https://cathyfox.wordpress.com/2015/04/19/child-abuse-in-leicestershire-working-document-frank-beck/
https://spotlightonabuse.files.wordpress.com/2014/04/exp250883.jpg
https://books.google.com/books?id=z8geBQAAQBAJ&pg=PT131&dq=dorchester+hotel+mi5&hl=en&sa=X&ved=0ahUKEwjOr7DUmMDKAhXBRSYKHfn9CN8Q6AEIRTAE#v=onepage&q=dorchester%20hotel%20mi5&f=false
http://www.dailymail.co.uk/news/article-3412748/Queen-backs-hounded-hero-Pride-place-Windsor-Castle-lunch-Lord-Bramall-92-year-old-s-abuse-case-hell.html#ixzz3y44e9hFl
MI5 and Queen's officials protected royal family over Cambridge spy
Evidence that Anthony Blunt was a Soviet mole was played down, according to former deputy head of the Security Service
http://www.theguardian.com/uk/2012/oct/26/queen-royal-family-cambridge-spy