Ball said : 'He [Prince Charles] has been wonderfully kind and allowed me to have a Duchy house. The prince is a loyal friend.
'I have immense admiration for him. He has been through horrific times and is a great person.'
Establishment figures who helped disgraced bishop Peter Ball avoid prosecution for sex abuse revealed
December 31, 2015
…they include
David Cameron's late godfather then Tory MP of Lewes, Tim Rathbone, who gave Mr Cameron his first work experience in the House of Commons.
Mr Rathbone, wrote that he found it "literally inconceivable" that Ball would ever become involved with anyone in the way described.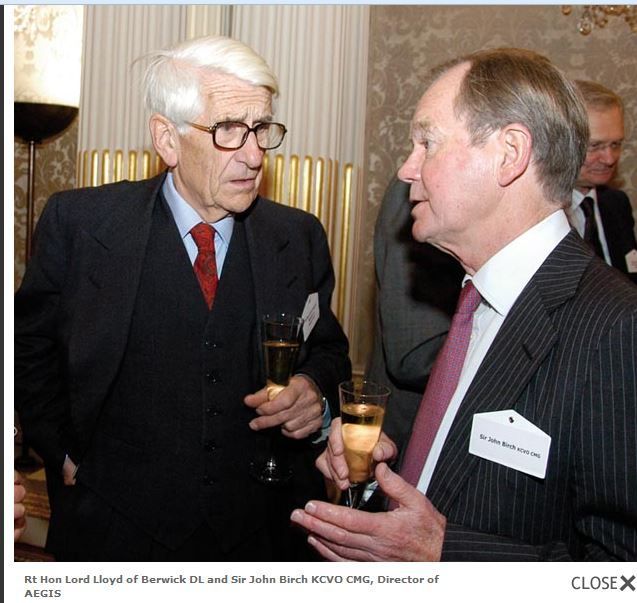 Anthony John Leslie Lloyd, Baron Lloyd of Berwick, Kt, PC, DL (left)
Anthony Lloyd, who was a Lord Justice at the time, described Ball as a "saint" in one of more than 2,000 letters sent to the Crown Prosecution Service and Gloucestershire Police in his support from acquaintances.
"He is quite simply the most gentle, upright and saintly man I have ever met," he wrote.
"If there is a latter day St Francis, then Peter Ball is him."
In 1969 Lloyd was appointed Attorney-General to the Prince of Wales, serving until 1977.
made a Privy Counsellor
He held the office of Deputy Lieutenant (D.L.) of East Sussex in 1983.
Another Deputy Lord-Lieutenant for East Sussex from 1986 until 2000 was:
Lord Hampden, Anthony David Brand 
Lord Hampden, Anthony David Brand  and Peter Ball, were involved in the Derry Mainwaring Knight Satanist trial
Derry Knight told an astonishing story about his membership in a secret Satanic cult called the Sons of Lucifer
At the conclusion of the trial, Mr. Baker said he remained convinced that Mr. Knight was a genuine Satanist trying to break free, and not a swindler.
The biggest contributor was Mrs. Sainsbury, who wrote checks totaling $116,000. Next came the chief magistrate and former high sheriff of East Sussex, a wealthy farmer named Michael Warren, who is reported to have given nearly $80,000.
The local bishop, the Right Reverend Peter Ball, of Lewes, a monk of whom the judge said, "You may think he is a little unwordly," also agrees. "Father Peter,"… endorsed Mr Baker's fund-raising with a note saying it was "a very necessary battle against Satan".
The parish priest in the village of Newick, the Rev. John Baker, organized a donors' group to back Mr. Knight in his struggle and mobilized the support, among others, of Viscount Hampden, Viscount Brentford, the Earl of March and Mrs. Susan Sainsbury, the wife of a Conservative Member of Parliament. Their efforts won the support of the Anglican Bishop of Lewes, Peter Ball, a member of a small monastic order who shuns ecclesiastical vestments and worships in a converted pigsty. Group Contributed $313,000
The 35-day trial in Maidstone in neighboring Kent – in which more than 100 witnesses were heard, including the aristocrats who invested in the struggle for Mr. Knight's soul and the call girls who benefited from their contributions – earned itself a prominent place in the annals of British crime and eccentricity.
http://www.nytimes.com/1986/05/04/world/devil-did-it-a-british-man-nets-313000.html
Elizabeth Butler-Sloss is related to the Sainsbury family – The Hon. Sarah Sainsbury, daughter of John Davan Sainsbury, married to Hon. Robert Butler-Sloss, son of Elizabeth Butler-Sloss,
Tim Renton
Margaret Thatcher's former Chief Whip Tim Renton MP said any criminal action against Ball was "far too great a punishment".
Members of the same club – Alf Bates Club 1974
Jonathan Aitken, Tim Renton, Leon Brittan, Peter Morrison, Sir George Young, Alan Clark…

Aitken  :

Archbishop of Canterbury Donald Coggan and Peter Ball

Former Archbishop of Canterbury, Donald Coggan had ordained Ball in 1977 and said he held him in the "highest regard and respect".
Queen Elizabeth II thanks the Archbishop of Canterbury, Donald Coggan, for leading her Silver Jubilee service at St Paul's Cathedral. June 07, 1977
Headteachers from some of the country's top private schools, including Lancing College and Radley College, Oxford, also wrote in his support.
James Woodhouse, headmaster of Lancing College and former head of Rugby School;
Ian Beer, former head of Harrow;
Richard Morgan, former head of Cheltenham College;
Reverends AJ Keep and NAT Menon, both chaplains at Cranleigh school

Lancing College – alma mater of the Peter Ball and his brother Michael Ball, Trevor Huddleston & Tom Driberg
Roy Whiting – killer of Sarah Payne – in the evenings he would spend his time doing up old cars at home. The most respectable sounding entry on his otherwise uninspiring CV would have been a spell at Lancing College, a leading independent school whose alumni include Evelyn Waugh and Sir Tim Rice.
But Whiting was never a pupil – all he did there was an out-of-hours paint-spraying course when he was 18.
http://www.dailymail.co.uk/news/article-89672/A-man-sick-little-girl-do.html#ixzz3vxgCK6Ux
It was also revealed that there had been "two thousand letters of support…including letters from cabinet ministers and Royal Family".
The member of the Royal family was not named by Ball's barrister.
Another who wrote in support of Peter Ball:
Peter Nott, Bishop of Norwich,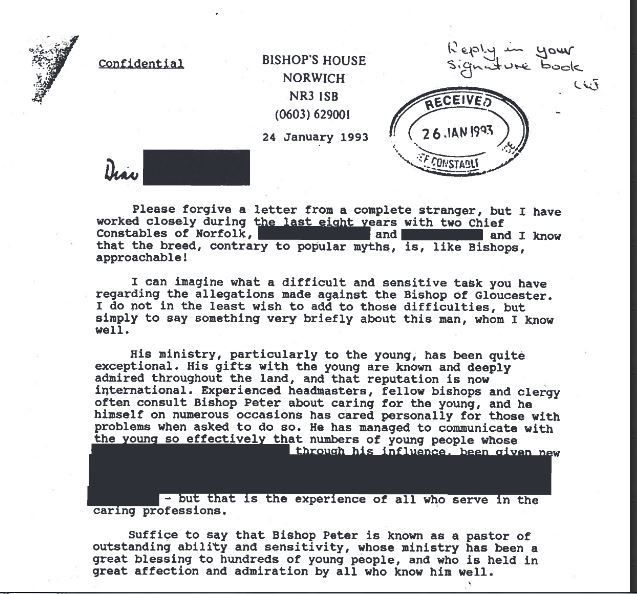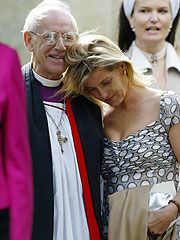 The Countess

Sophie Rhys-Jones

embraces

Bishop Peter Nott, who was a close friend of her mum

,
Sophie Rhys-Jones –  One of her mum's oldest friends- the former Bishop of Norwich Peter Nott  Sophie's father was a master at Sherborne School
The Queen With The Bishop Of Norwich, The Right Reverend Peter Nott For The Maundy Service.
April 04, 1996
More on Sophie Rhys-Jones
"The red-faced wife of Prince Edward quit her own public-relations firm last night after it was revealed her partner hinted they could set up sex tours and gay parties for clients and use the royal family to boost business.
Her partner, Murray Harkin, also quit after a newspaper sting caught him admitting on tape that he enjoyed cocaine and could procure young men and arrange sex tours  to the Far East for clients.
http://nypost.com/2001/04/09/royal-sex-tour-scandal-prince-edwards-wife-quits-job-as-tapes-bare-biz-pals-shocking-plan/
 The firm can procure "nice boys" for clients. "How young does he like? Does he like Asian boys? . . . And how young?
Referring to Prince Edward's sexuality, "There's no smoke without fire."
Sophie had created a 'royals for hire' storm
(She's not the first of the queen's daughter-in-laws to be have done this:  Prince Andrew's wife Sarah Ferguson)
Cash for access: Sarah Ferguson is caught on hidden camera during a sting in which she revealed she could organise a meeting with Prince Andrew for £500,000
Fergie took £15,000 from paedophile billionaire Jeffrey Epstein at centre of claims Prince Andrew slept with under-age 'sex slave'
http://nypost.com/2001/04/09/royal-sex-tour-scandal-prince-edwards-wife-quits-job-as-tapes-bare-biz-pals-shocking-plan/
Prince Edward's wife was targeted by investigative reporter Mazher Mahmood worked on a tip-off via Max Clifford that her PR company was selling access to the royal family in 2001, the court heard.
http://www.dailymail.co.uk/news/article-2564907/Hacking-trial-hears-Countess-Wessex-forced-exclusive-interview-NotW-indiscreet-comments-royal-family-Fake-Sheikh.html#ixzz3w5nnTypB
In the News of the World 's transcripts, the countess appears to betray strong Tory sympathies, describing it as a 'shame' if William Hague loses the election.
(The marriage of Prince Edward and Sophie Rhys-Jones – guest list includes Prime Minister Tony Blair, Sir Andrew Lloyd Weber, William Hague, Billy Connolly and Stephen Fry)
The men discuss places to visit in Thailand, Harkin recommending some 'really sleazy' bars in Bangkok. The three then apparently turn to discussing rent boys, with Harkin confiding that 'in India I gave someone like two weeks' pay'.
http://www.theguardian.com/politics/2001/apr/08/uk.news
Rebekah Brooks decided not to run the story and instead rang Buckingham Palace to make a deal.
An agreement was struck for an interview with Sophie in exchange for dumping the Fake Sheikh story.
Sophie's family is descendant from King Henry II of France and she is a descendant of Edward III and several peers – according to one expert, she is the 11th cousin of her husband.
2 January 2016
Sophie Rhys-Jones
...viewed by the Queen as its safest pair of hands.
The Queen uniquely arranged for the public relations girl (before she was married)  to have her own pass to enter Buckingham Palace. This enabled her to stay overnight in the royal apartments whenever she wished.
'She is trusted and relied on by the Queen in a way I couldn't say applied to the Duchess of Cambridge or the Duchess of Cornwall,' says a royal aide. 'She is like another daughter to Her Majesty, they are that close.'
Most significantly — as the Queen approaches her 90th birthday this spring — the closer she becomes to Sophie, the more she depends on her. 'She talks to Sophie in the way she used to talk to Princess Margaret,' says a palace aide.
…making sure that the Countess's 84-year-old father, Christopher, is included on the invitation list to many Royal Family events — a gesture that doesn't extend to the Middletons.
The Queen and the Countess also share a fascination with military history. Sophie loves listening to the Queen talk about great historical events, and the pair are sometimes gone for hours, poring over ancient documents in the Royal Archives, which are kept at Windsor Castle.
Peter Ball and his safe pair of hands – Elizabeth Butler-Sloss
Elizabeth Butler-Sloss
The Home Office has backed Baroness Butler-Sloss as the right person to lead an inquiry into allegations of historical child abuse, after claims about her over a previous review.
Phil Johnson, who was abused by Peter Ball at age 13, while a choirboy, claims she wanted to exclude some of his allegations against Peter Ball.

Mr Johnson's claims add to pressure on Baroness Butler-Sloss, who was appointed by Home Secretary Theresa May to head a review of how allegations of abuse linked to public institutions in the 1970s, 80s and 90s were handled.
. . . . . . . . . . . . . . . . . . . .. . . . . . . .
Reverend Graham Sawyer, the vicar of Briercliffe, in Burnley, was abused by Ball in the 1980s.
He has attacked the Establishment in light of the support received by Ball in 1993.
"It is terribly sad he was not prosecuted in 1993 and it has not served anyone well," he told the Telegraph.
"There needs to be a full investigation.
"Unfortunately the Establishment in this country is still strong and the relationship between the church and the establishment needs to be looked at.
"We cannot allow the Establishment to collaborate in this way, it is not fit for purpose."
. . . . . . . . . . . . . . . . . . . . . . . . . . . .
www.people.com/people/archive/article/0,,20093876,00.html
http://www.bbc.com/news/uk-politics-28274882
http://www.dailymail.co.uk/news/article-3381564/How-Sophie-Wessex-risen-Queen-s-favourite-law-leading-chilly-relations-Kate.html
http://us.hellomagazine.com/royalty/2005/09/16/sophiewessex/
http://www.thepeerage.com/p10414.htm
http://webcache.googleusercontent.com/search?q=cache:imnsLm3Xdp0J:news.bbc.co.uk/2/hi/special_report/1999/06/99/royal_wedding/364813.stm+&cd=4&hl=en&ct=clnk&gl=us
iwantoread.com/index.php/2015/12/31/establishment-figures-who-helped-disgraced-bishop-avoid-prosecution-for-sex-abuse-revealed/
books.google.co.uk/books?id=HW-rAAAAQBAJ&pg=PA185&dq=%22peter+morrison%22+%22jonathan+aitken%22+%22leon+brittan%22&hl=en&sa=X&ei=_wqtVO21IZfxaO2jgpAJ&ved=0CCAQ6AEwAA#v=onepage&q=%22peter%20morrison%22%20%22jonathan%20aitken%22%20%22leon%20brittan%22&f=false
http://www.dailymail.co.uk/news/article-1304254/As-Sarah-Ferguson-faces-bankruptcy-questions-Prince-Andrew-MUST-answer.html
http://www.dailymail.co.uk/news/article-2564907/Hacking-trial-hears-Countess-Wessex-forced-exclusive-interview-NotW-indiscreet-comments-royal-family-Fake-Sheikh.html#ixzz3w5oCk015
http://www.dailymail.co.uk/news/article-3381564/How-Sophie-Wessex-risen-Queen-s-favourite-law-leading-chilly-relations-Kate.html
http://www.dailymail.co.uk/news/article-3264221/Disgraced-bishop-Charles-refused-abandon-Peter-Ball-rented-house-Duchy-Cornwall-cautioned-sexual-assault.html#ixzz3w6z9NCGU
http://www.telegraph.co.uk/news/uknews/crime/10963332/Baroness-Butler-Sloss-hid-claims-of-bishops-sex-abuse.html