Between 1868 and 1974 Shefford was the site of St Francis' Boy's Home (orphanage) that was situated on High Street next to the Roman Catholic Church.   Savile used to regularly visit St Francis Boys Home.
Two men charged with abusing 26 boys at Bedfordshire boys' home
Friday 20 November 2015
Two men have been charged with abusing 26 boys – some as young as five years old – at a Shefford boys' home in the 1960s. The 25 boys were aged between five and 16.

The 18 sexual offences and 48 physical offences are alleged to have taken place at St Francis' Boys Home, in Shefford, between 1963 and 1974, Bedfordshire Police said.
A 79-year-old man from Swaffham, Norfolk, is charged with 66 offences – 18 sexual and 48 physical – which are alleged to have taken place at St Francis Boys' Home between 1963 and 1974.
 A 73-year-old man from Bedford has been charged with six sexual offences against four boys aged between 11 and 16.
 ……………………………………………………………………………………………………………………….
Background:
SHEFFORD BOYS HOME: Mystery of the missing police files and Jimmy Savile clipping
A COMPLAINT to Bedfordshire police has been made by a former resident of a boys home concerning missing files relating to previous inquiries.
Former residents of St Francis Boys Home in Shefford, which was run by the Catholic Church, are taking a 'class action' against the church over claims they were both physically and sexually assaulted.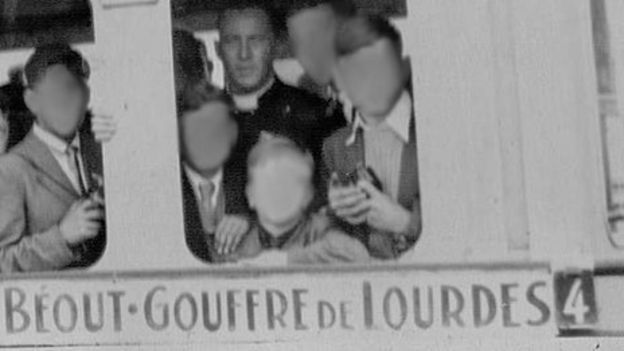 Fr John Ryan

As reported by Bedfordshire on Sunday, one of the priests alleged to have abused children in the 1950s and 1960s, Father John Ryan, was twice interviewed by police concerning these allegations, in 1997 and 2003.
This newspaper interviewed Father Ryan in 2006 and put these allegations to him but he made no comment. He died in 2008.
Damian Chittock, who won damages from the church concerning abuse, has complained about the missing police files.
Bedfordshire Police said they have received a complaint and it was being investigated.
The police started a new investigation this year, after more former boys complained about abuse at the former orphanage run by the Northampton Diocese of the Catholic Church.
Damian Chittock said: "It seems to me incredible that two files concerning very damning allegations can go missing. I worry about how seriously the police are taking these matters, which have blighted people's lives for decades."
Steve Lowe, group editor, said:"I believe more in the cock-up than conspiracy theory but losing both sets of files is worrying.
"We also found that there was a picture of Jimmy Savile attending a VE commemoration day in Shefford, in April 1985, in the local paper of the time. He visited the home often, as there is a Catholic Church attached and Savile was a committed Catholic.
"We went to Bedford library and it had every copy of this paper since it started publishing until the present day, apart from the first half of 1985, which had gone missing.
"Another cock-up I guess but they do seem to be mounting."
St Francis Boys' Home, Shefford
…………………………………………………………………………………
October 13, 2013
…This was the second time Father Ryan had been arrested as he was interviewed in 1997, following earlier complaints of both physical and sexual abuse at the home.These records also went missing. The files are relevant to a 'class action' legal case being taken against the church by many other former boys at the home, as Father Ryan is now dead and the statements could have been used in court.
Mr Chittock said: "I find it incredulous that your officers cannot find

these files

, that not only
include witness statements from at least three victims, but also the interview with Father John Ryan and 40 old boys that were interviewed in the original investigation in the 1990s."
http://www.bedfordshire-news.co.uk/Missing-Shefford-boys-home-abuse-case-files-destroyed/story-21724458-detail/story.html#ixzz2hnZa317H
Jimmy Savile link to 'abuse' orphanage prompts MP's concern
Ms Greening, MP for the south London constituency of Putney, Roehampton and Southfields, said in a letter to Mr McIntosh she had written to the Chief Constable "asking her to open a new investigation into the matter, including into a potential link with Jimmy Savile".
She said she had also written to Home Secretary Theresa May over concerns Mr McIntosh had raised about the police inquiry into the orphanage and missing police files.
Mr McIntosh, who lives in Roehampton and went to St Francis in the early 1960s, said he was concerned about why files relating to a previous investigation went missing for months.
Bedfordshire Police started an investigation into new claims of abuse last May. In October police said it was thought the files had been destroyed but the following month police located the files.
Mr McIntosh said he wanted to know why the files from the 2002 investigation had gone missing and why the 2002 investigation failed to produce any prosecutions.
In a letter to Mr McIntosh, Ms Greening said she had written to Mrs May to "highlight your general concerns about previous investigations".
Mr McIntosh said: "I hope it puts pressure on the police to be more efficient. There are a lot of questions to be answered. Why were the files not found?"
Since Savile's death in 2011, hundreds of people around the country have reported abuse by the former presenter of Top of the Pops.
Mr McIntosh, who says he was physically abused at the home, said there are reports Savile was seen visiting the home in the 1950s.
He said he was also pleased Ms Greening had written to Ms May about the possibility of bringing a corporate manslaughter charge against the orphanage over the alleged abuse.
Last year (2013) a 77-year-old man, from Thetford, Norfolk, was arrested on suspicion of historical physical and sexual abuse at the home, while a 71-year-old man has been interviewed in connection with the investigation.
The home, which was run by the Northampton diocese of the Catholic church, closed in the mid-1970s.
The BBC has spoken to a number of former boys' home residents who allege abuse at the hands of priests Fr John Ryan in the 1960s and Fr Wilfred Johnson in the 1950s.
The Northampton Diocese of the Catholic Church, which ran the home, has said it "deeply regretted" any hurt caused, but has stressed the "claims are not proven".
http://www.bbc.com/news/uk-england-beds-bucks-herts-26258129
June 16, 2013
Bedfordshire on Sunday can now reveal that Savile used to regularly visit St Francis Boys Home.
He frequently stayed at Henlow Grange health farm, so much so that a wing at the spa was named after him.
Local Shefford historian Audrey White, 83, was photographed with Savile at the Shefford VE remembrance celebration in 1985.
Audrey said: "We thought he might be at The Grange as we knew he was a frequent visitor so we phoned the health farm and he was there, so we invited him to our celebrations. Mr Savile was very nice and said he would come along. He arrived on Sunday morning with two other men and agreed to be photographed with me and my husband. He stayed for a while, drew a poster for us and even made a donation".
The Grange was first opened by Leida Costigan in 1961 as The Beauty Farm School of beauty and physical culture, the first of its kind in the country.
Savile has been accused of sexually assaulting minors while at The Grange and of molesting a former chambermaid of the health farm, who was 18 at the time.
A new children's ward in Stoke Mandeville hospital, funded by Savile, was named St Francis Ward.
Another former boy spoke to us this week about the abuse at the home, especially by Father Ryan.
We interviewed Father Ryan in 2006 where he said he remembered some of the boys named to him but would not comment on allegations of abuse.
He had been arrested in 2003 and never charged and died in 2008.
Neither the Catholic Church nor Henlow Grange would comment.
 Henlow Grange to High Street, Shefford
Savile, Henlow and Shefford, East Bedfordshire
5th November 2011: :
"Jimmy was a regular visitor at Champneys health spa in Henlow, first visiting in the 1960s. He became a close friend of the owners, Stephen Purdew and his mother Dorothy. When a new bedroom wing was opened in 1985 it was named after him.

Stephen Purdew said: 'He was a very significant family friend loved by everyone.

"Many people in the Henlow area will have very fond memories of this great man. My mother and I will miss him dearly.'" [Farewell to top TV Presenter, Biggleswade Today, 5 November 2011]

Dorothy Purdew's autobiography:
'Mid-1980s': Two Yemeni girls of 14 or 15 arrive (or 'are delivered'), who are 'clueless' and there is no contact with their parents, only communication with a London doctor and they stay for 6 months, lose about 4 stone each and become fluent in English
"On another occasion in the mid-80s we had two teenage girls from Yemen delivered to us. A fleet of cars arrived with the pair... I don't know why they were over here , it was all very mysterious and whenever there were any problems or dramas we had to call this London doctor who acted as the go-between with their parents.

They ended up living with us for six months… " (LRC p.151)
Dr Venu, Keith Vaz MP, busineman Stephen Purdew and Michelin chef Sriram Aylur
Keith Vaz, the Labour MP for Leicester East, has a long-standing connection to the Purdew family, who own Champneys

, including charitable and business links in addition to a close personal friendship. 
……………………………………………………………………
Child sex abuse victims got death threats after inquiry published emails
Survivors of child abuse say they have received death threats after the chairman of a Commons committee released scores of emails containing the identities of four abuse victims.
In a letter to the home secretary, the victims, who have been campaigning for changes to the independent child abuse inquiry, condemned the decision by Keith Vaz, chair of the home affairs select committee (HASC), to place the emails which contain the victims' names and disparaging comments about them, on the committee website.
http://www.theguardian.com/politics/2015/jan/29/child-sex-abuse-victims-emails-commons-committee
http://www.telegraph.co.uk/news/uknews/8646241/Phone-hacking-Keith-Vaz-links-to-spa-behind-Stephenson-resignation.html
via Alun:
You couldn't make it up: Keith Vaz says CSA inquiry which has just lost weeks of data is most appropriate place for information to go.