Roger Howard Benson who did high profile work with disadvantaged youth for the Prince's Trust charity has been jailed for five years for sexually abusing a 14-year-old girl.
Friday 13 November 2015– the only "msm" news report on this newsworthy item. From The Telegraph & Argus  – the daily newspaper for Bradford, West Yorkshire, England and no images available of "high-profile" figure Roger Benson.
Former Director of Prince Charles' Prince's Trust is a convicted paedophile
Roger Benson had labelled her "a malicious nutcase and a liar" when he was arrested last year and he did not confess his guilt until she gave evidence in his trial last month.
Judge Jonathan Rose said Benson's denials had made the girl's already dreadful abuse worse.
Benson pleaded guilty to five offences of indecent assault that took place on three occasions in September 1986.
…………………………………………………………………………………………….
MR ROGER HOWARD BENSON of KEIGHLEY, born in 1938
Mr. Benson was 'head hunted' for the post of Director of Operations, with The Prince's Youth Business Trust.

Director
THE PRINCE'S YOUTH BUSINESS TRUST
March 1980 – October 2001 (21 years)
Director
YOUTH ENTERPRISE SCHEME (N. IRELAND) 16 May 1986 to 24 March 2000 (14 years)
…………………………………………………………………………………………..
Mr. Benson has had a varied career in industry, education and charity work. Through night school, while undergoing an apprenticeship as a textile designer he won a scholarship to Leeds University to read Textile Technology. After a short period at Courtaulds, he began a career in the academic world, which saw him rise quickly through the ranks to become Head of Hotel, and Institutional Management, at Leeds Polytechnic, which became Leeds Metropolitan University.
Benson has undertaken consultancy/research in small business development with 8 European/North American countries, and with the ILO. He has held many national and international posts, including being the President/Chairman of the Hotel, Catering and International Management Association. (1991 to 1995)
Mr. Benson promotes InBiz in its relationships with the Local, Regional and National Government.

At the time of the assaults, in 1986, Benson was working for the Prince's trust. The girl told a school friend and the police were alerted but Benson denied the allegations and was not prosecuted until 29 years later.

East India Devonshire Sports And Public Schools Club Limited in London's exclusive St James's Square
Roger Benson was also Director of East India Devonshire Sports And Public Schools Club Limited
5 May 2004 – 11 May 2011
– One of Britain's most historic private member's clubs and one of the richest clubs, with hefty cash reserves.
Members of this private men's club have included: Prince Albert (patron), Lord Mountbatten, Lord Randolph Churchill, Denis Thatcher, the husband of Margaret Thatcher, Lord Coe and Nigel Farage.
While Benson was director of the club, the treasurer was stealing money and was later convicted of fraud.
………………………………………………………………………………………………..


Another Director of The Prince's Trust – Sir Harold Haywood
Harold Haywood's son:
"My father was very involved with the royal family during the Prince's Trust days in the 1970s and 1980s but remained a close friend and adviser to the Prince.

"I recall my father and late mother, Amy, frequently attending events at Buckingham Palace, including one to celebrate the forthcoming wedding of Charles and Diana just two days before it happened."
In 1985 Haywood took the Prince on a 'plain clothes' visit to a youth hostel and to charity centres in Soho's red light district.
Sir Harold Haywood was Director of The Prince's Trust 1977-88
Paedophile Roger Benson started with the prince's trust in 1980 when Haywood was director. Benson was 'head hunted' for the post of Director of Operations with The Prince's Youth Business Trust – wonder if Haywood appointed Roger Benson?
Haywood appointed Jimmy Savile as vice-pres of a youth club
via strider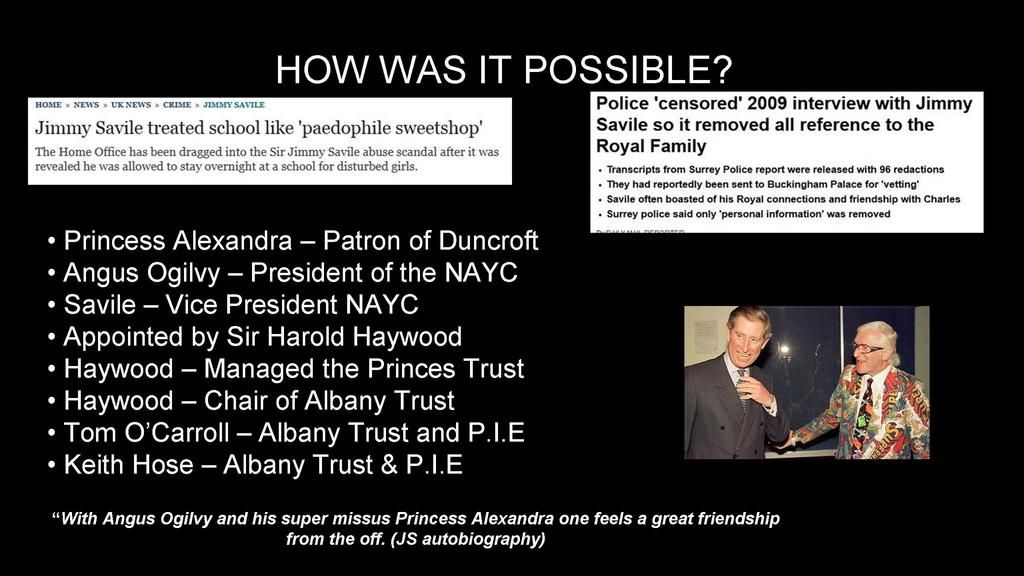 For almost twenty years,from 1955-1974, Haywood occupied one of the top positions at the NAYC National Association of Youth Clubs, first leading as Education and Training Director, and then Director of Youth Work.
via cassandra cogno
Under Haywood's NAYC directorship, Sir Angus Ogilvy, husband of Princess Alexandra was appointed President, with Jimmy Savile as Vice-President; a slew of celebrity attended fundraising events were organized, new headquarters were built on premises at Devonshire Street.

Angus Ogilvy and Jimmy Savile
In his autobiography Savile wrote: 'Princess Alexandra is a patron of a hostel for girls in care (Duncroft). At this place I'm a cross between a term-time boyfriend and a fixer of special trips out.'
………………………………………………………………………………………………
Sir Harold Haywood's time as Chairman of Albany Trust
From 1974 to 1977
Haywood is chairman of Albany Trust – during this time he coaxed into existence a booklet entitled Paedophilia: Some Questions and Answers along with fellow Albany Trustees, members of the Paedophile Information Exchange (PIE's Keith Hose and Tom O'Carroll) and the Paedophile Action League (PAL).
It was abandoned after a trustee saw a draft and branded it monstrous."
One of the Booklet's stated aims was to argue for the positive social benefits paedophiles brought to society:
"… about paedophilia, and to argue that those involved represent no special threat to society, but on the contrary are often a force for social good."
1975-1976: Haywood & Napier, Albany Trust & Nucleus at Earl's Court
Haywood was busy convening an exciting new 'informal' venture at Earl's Court, gathering a group of colleagues together to form a 'Working Party'
Paedophile Information Exchange's Charles Napier took a leading role.
On Monday 22 August 1977, just before Harold Haywood departs Albany Trust to create the Prince's Trust for Young People for Prince Charles, Charles Napier is discovered by Kensington & Chelsea Council to be the Treasurer of the Paedophile Information Exchange. The response of Nucleus … They require Napier to take a holiday to get over the stress and only resign his official position not his membership of PIE.
1975-1976: Haywood & Napier, Albany Trust & Nucleus at Earl's Court

Charles Napier and half-brother John Whittingdale MP
Tory MP's half-brother Charles Napier sentenced to 13 years over 'prolific' child sex abuse
Tory MP's half-brother who was known as 'Rapier Napier' by his pupils and helped run Paedophile Information Exchange is jailed for 13 years for HUNDREDS of sex assaults on young boys in the 60s and 70s
Abuse scandals probe widens: The man (Charles Napier) who may hold key to UK's biggest paedophile network ever
Paedophiles: PIE treasurer Charles Napier and PIE founder Peter Righton lived on Lord Henniker's estate.
"Peter Righton, former Executive Committee member of the Paedophile Information Exchange, author of various freely available writings advocating sex with children, and senior figure in the social work profession, took up residence on Henniker's estate, Thornham Magna, following Righton's conviction for importing and possessing pornographic material featuring children in 1992.


Numerous groups of children were brought from Islington and elsewhere to Thornham Magna on day trips and it is feared that they were the victims of abuse at the hands of Righton"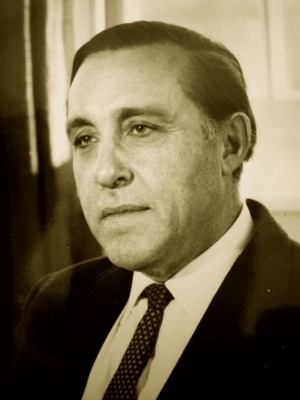 Henniker was Director of the British Council (1968-72)
Charles Napier was employed by the  British Council

Charles Napier and Richard Alston
Napier, a British Council teacher used diplomatic privileges to smuggle child-pornography into Britain.
He bragged of easy access to young boys and how he could send obscene images back to Britain in diplomatic bags."

Diplomat Sir Peter Hayman was caught sending paedophilia-related materials
A correspondence of an obscene nature between Sir Peter Hayman and number of other persons. The papers involved an obsession about the systematic killing by sexual torture of young people and children.
Lord Henniker and Sir Peter Hayman were at Stowe School together and both worked for the Foreign Office.
Alston brothers:

Convicted paedophile Richard Alston (left) and brother British diplomat Robert Alston
Richard Alston and Charles Napier

Convicted paedophile PIE member Richard Alston abused children with Napier and Righton
"The court heard that Righton and Alston's friend Charles Napier would also be present for some of the meetings with the boy."

Diplomat Robert Alston was educated at Ardingly College (as was Peter Righton and Richard Alston) Robert Alston is Chairman of Governors at Ardingly College. The school has its own Masonic Lodge, Ardingly College Lodge, which is a member of the elite Freemason "Public School Lodges" Council. 

Robert Alston served as British Ambassador to Oman between (1986–1990), and as British High Commissioner to New Zealand and the Cook Islands, non-resident High Commissioner to Samoa, and Governor of the Pitcairn Islands between (1994–1998)

Pitcairn Islands…
In 2000, police investigating the rape allegations of a 15-year-old girl uncovered a trail of child abuse dating back at least three generations. Scarcely any of Pitcairn's 47 inhabitants were untainted by the allegations, and barely a girl growing up on the island had escaped abuse.
For Britain, the case raised embarrassing questions about its supervision of the colony, now known as an overseas territory.
………………………………………………………………………………………………………………………..
The Martin Allen case linked to Westminster paedophile ring
 Diplomats, royals, government ministers, business executives and Margaret Thatcher were frequent visitors to Stoke Lodge in the late 1970s
Stoke Lodge, the Australian high commissioner's residence in London. The Allen family lived in a cottage in the grounds.
The Allen family lived in the caretaker's five-bedroom cottage in the grounds, separated from Stoke Lodge by just a few metres across a wrought-iron low-level fence about one metre high."It was quite secluded where we were; people didn't have any reason to come down there unless they lived there, really,'' Kevin tells Inquirer.
The well-heeled jewellery family, the De Beers, were neighbours, so, too, the Showerings, who owned Allied Breweries, and there was an Arab king to the right.
The street, Hyde Park Gate, is particularly famed as Sir Winston Churchill lived and died there.
"We would often go into the garden and speak to visitors at Stoke Lodge," says Kevin. "My mum and I even stood at the fence and chatted to Prince Charles and Princess Diana once when they visited."
Martin took a photograph of Margaret Thatcher and her husband Denis when they were leaving one of the receptions at Stoke Lodge.
Kevin's bedroom was at the far end of the cottage, but Martin's was halfway along the hallway, directly overlooking the ambassadorial residence.Since November last year, when police started fresh inquiries into the historical abuse of children by the VIP pedophile gang, Kevin has started his own digging.
What has shocked him, apart from what he believes is an apparent disinterest of the police in re-examining Martin's disappearance, are the staggering links the Australian high commission had to men who would later be revealed as some of the country's most vile pedophiles.
Kevin says it was standard practice for the high commission to supplement its regular drivers with stand-in and casual drivers from a particular chauffeur firm located just across the Thames.
His research has revealed that this chauffeur firm had, at various times, employed Sidney Cooke, whose gang the "Dirty Dozen'' would later be convicted and jailed for the torture and murder of three young boys in the 80s. Jimmy Savile's chauffeur, David Smith, who killed himself last year before standing trial on sex charges, is believed to have had links to the same car company in the late 70s. Cooke and his pedophile cohort are understood to have been some of the drivers who would pick up young care-home boys and rent boys in the expensive cars and deliver them to organised ­orgies in Barnes, Pimlico and ­Kensington.
"All about at the same time as Martin's disappearance, all of these pedophiles were linked to the (known pedophile) houses and a couple of them worked for the one car company that Australia House used as subbies if they didn't have enough drivers,'' says Kevin, blinking back tears."Cooke and a few other infamous multi-murdering people worked for this car company."
A missing boy and the Australian high commission in London (31.01.15)
http://www.bloomberg.com/Research/stocks/private/person.asp?personId=26253401&privcapId=23733077&previousCapId=23733077&previousTitle=InBiz%20Limited
http://www.telegraph.co.uk/news/features/10658118/What-ho-Jeeves-Theres-trouble-at-the-old-boys-club.html
http://www.derbytelegraph.co.uk/Prince-pays-tribute-Sir-Harold/story-11586668-detail/story.html#ixzz3rlKWs0PP
1975-1977: Who was 'John', Albany Trust's representative, on paedophile drafting committee?
1975-1976: Haywood & Napier, Albany Trust & Nucleus at Earl's Court
https://ianpace.wordpress.com/tag/lord-henniker/
http://www.npr.org/templates/story/story.php?storyId=103569364
http://www.independent.co.uk/news/uk/crime/tory-mps-half-brother-charles-napier-sentenced-to-13-years-over-prolific-child-sex-abuse-9942651.html
http://www.ukcolumn.org/oldforums/index.php?p=/discussion/7233/p-i-e-paedophile-information-exchange/p12
https://thecolemanexperience.wordpress.com/2013/03/09/the-british-council-charles-napier-and-the-diplomatic-bag/
https://thecolemanexperience.wordpress.com/2013/05/26/mi6-british-diplomats-william-hague-dolphin-square-and-the-vip-child-abuse-connection/
http://www.cbetta.com/director/roger-howard-benson