"Sir Norman SKELHORN was habitually and reliably soft on paedophiles."
Sir Norman SKELHORN bears the responsibility for ensuring that Victor MONTAGU, Bishop of Stepney Trevor HUDDLESTON, Cyril SMITH and & Peter JACONELLI escaped trial

Victor Montagu and son

BISHOP TREVOR HUDDELSTON

The Queen Mother chats with sadist paedophile Cyril Smith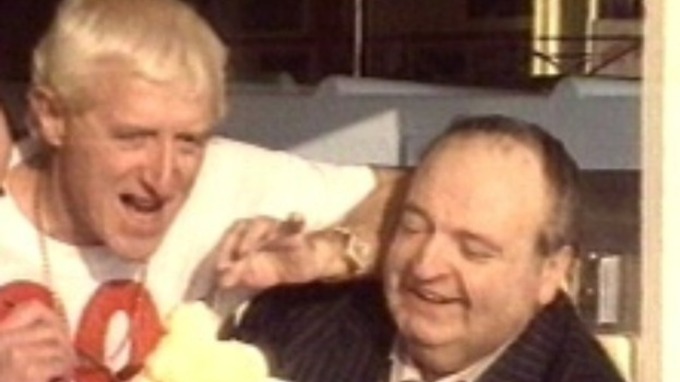 SAVILE and JACONELLI
PETER JACONELLI And The Paedo-Friendly DPP
Nigel October 31, 2015
"….The Telegraph added:
'But despite all the allegations bearing striking similarities, no charges were ever brought after the Director of Public Prosecutions (DPP) at the time, Sir Norman Skelhorn, decided the victims could not be trusted as they were, he said, of suspect character.'
"Suspect character"? Attaboy, Sir Norman! Kick a man when he's down. How utterly sickening.
Of course, bullying, intimidating (by "threat or retaliation") and slurring the character of victims/survivors of paedophilia (and those who expose cover-ups) is a well-practised art by now – witness the treatment handed out to one of only thirty-five victims/survivors of Peter JACONELLI whom the North Yorkshire Police have condescended to deem genuine, Guy WHITING, who has been arrested and beaten whilst in custody, then charged with bogus offences which ultimately had to be abandoned.
In my view, certain members of the North Yorkshire Police and Scarborough Borough Council also know where the buck stops – and cannot for much longer avoid doing the right thing. And, again in my opinion, we will soon be hearing a long line of cover-up merchants pleading the Nuremberg Defence – "I was just following orders" – which is simply not acceptable; somebody issued those orders – perhaps Sir Norman SKELHORN – and all those who acted upon them are also culpable.
Nuremberg Principal IV states:
'The fact that a person acted pursuant to order of his Government or of a superior does not relieve him from responsibility under international law, provided a moral choice was in fact possible to him.'
No-one would deny that a moral choice was possible for all Scarborough officials – Police or Council – who were aware of allegations against Peter JACONELLI during his lifetime. For whatever reasons, they did not do the right thing. Therefore, they stand culpable and MUST be held to account."
http://nyenquirer.uk/peter-jaconelli-and-the-paedo-friendly-dpp/#prettyPhoto