http://i764.photobucket.com/albums/xx285/zhiba1/FireShot%20Screen%20Capture%20640%20-%20Tweets%20with%20replies%20by%20Sky%20News%20Newsdesk%20SkyNewsBreak%20I%20Twitter%20-%20twitter_com_SkyNewsBreak_wit_zpsgtdgwthf.jpg
The amazing sleuths on twitter had no problem identifying who it was and sure enough it was confirmed as Harvey Proctor
Ex-Tory MP Harvey Proctor in paedophile ring quiz
For those who put their odds on a "celebrity" – unlucky. Although there are still a number of those who will potentially be wheeled out to deflect from current and ex politicians.
However, re HP – from the above article:-
"He left the police station at 18:00hrs. He will not be subject to any police bail conditions. We are not prepared to discuss further."
It's worth noting what Proctor wrote on 3 May 2015 in response to allegations.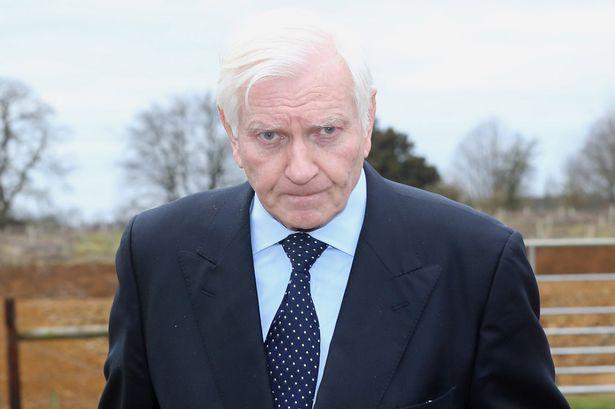 Check out some of the article – for e.g
On Wednesday 4 March 2015, the Metropolitan Police's Operation Midland Team raided my home and, under a warrant investigating historical child sexual abuse, searched my house for 15 hours. I was told at 11pm that  no statement would be issued to the press and my identity would not come out. That was not the case.

If not before, then within eight hours of the police leaving my home, details of the raid were leaked to the national media. ExaroNews – an odd internet news agency – was tipped off before the police left my home. Mark Conrad, a journalist for the agency, was phoning and emailing my office at 9.34pm – at least 90 minutes before the police left my house.
The whole emphasis is that Proctor is blameless (according to him) – and it is the police who acted inappropriately or incorrectly.
Interesting that Exaro is placed 'in the frame' – they being one of the few news agencies apparently willing to devote time and resources to disclosure of child abuse.
It's all so similar to the Cliff Richard raid – tho that was the BBC and the police's "fault".
Sir Cliff Richard vows to sue the BBC and demands damages after TV news crew filmed abuse inquiry police raiding his home
The timing of all this is also noteworthy. Alison Saunders was supposed to have gestated her decision to prosecute Greville Janner and proudly exhibited her sprog to the public by now.  This historic event has now been deferred until Tuesday of next week (allegedly).
Concurrently, Charles Napier – ex treasurer of P.I.E (Paedophile Information Exchange) was also grilled by the police – for 30 minutes (that's equivalent to a steak tartare). He's half brother to John Whittingdale MP – of whom Natalie Rowe has tweeted and written.
I'd conjecture that the co-ordination of many high level inputs into a cover-up have possibly mistimed their actions?
That leaves another 3 to 4 days for a major distraction to be floated?
I wonder if McAlpine liked cats?