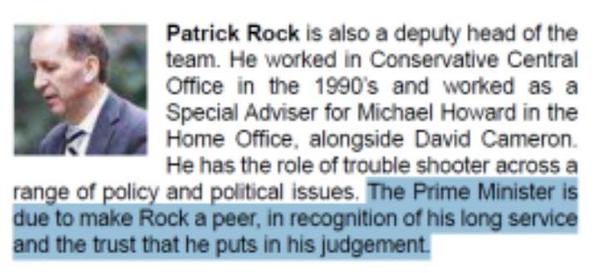 Who is Patrick Rock?
His wiki entry is concise:-
Patrick Rock was deputy director of policy for David Cameron, Prime Minister and leader of the Conservative Party in the United Kingdom, until he resigned in 2014 over allegations of child abuse.
Here's an extended version of the lyrics:
Patrick Robert John Rock  – born Patrick Robert John Rock de Besombes in Kensington in 1951. His Gran is a D'aigneaux, from a noble French family that originated in Normandy and boasts a coat of arms.
Patrick was a boarder at the elite Jesuit Stonyhurst College in Lancashire, which was engulfed in scandal in the late 1990s when allegations were made of child abuse by staff members over a 30-year period. Mark Thompson (ex Director-General of BBC) and Prescott Bush are among its old boys.
Rock won a scholarship to Worcester College, Oxford where he studied history. (Sir Peter Hayman is an alumni)
Rock's ambitions to become an MP failed – in 1979, in 1983 and again in 1984, when he was selected in a by-election to defend the seemingly impregnable safe seat of Portsmouth South, which had a Tory majority of over 12,000. (The by-election was called as Bonner-Pink, later accused of raping his daughter, died.
Maybe this extract from Hansard gives a clue as to why Rock failed yet again?
Does it not also mean that the Secretary of State for Trade and Industry and the Conservative candidate in Portsmouth, Mr. Patrick Rock, told deliberate lies to the electors of Portsmouth in a desperate attempt to salvage votes for a discredited Government?
The following year, i.e in 1985, Rock was appointed to the Conservative Research Department, then as special adviser to Cabinet ministers in the Department of the Environment and the Home Office, where he met David Cameron. Mr Rock then moved to Brussels and worked for Chris Patten. (Patten was preceded by Leon Brittan.)
According to Hansard – Rock has not only lied – he leaked too – in 1988
There was the interesting incident last year in which a leaked memorandum was published in the Guardian emanating from the Department of the Enviroment in which Mr. William Waldegrave's special adviser, Mr. Patrick Rock said:
Rock was still awarded an OBE for political services in 1992. (Fancy wiki not including that?)
More leaks, with his chum David Cameron, in 1994
Will he give the House an unambiguous assurance that neither he nor his officials and neither of his two special advisers —Mr. David Cameron and Mr. Patrick Rock, who are regularly seen operating in the Press Gallery—had any responsibility for planting the story in the Sunday Express?
Well, in the way of good chums, in 2011 Mr Cameron brought Rock back into the Government as a Downing Street special adviser, appointing him deputy director of policy.  Rock was tipped to receive a peerage in recognition of his long political service.
Child abuse charges – timeline
Case number T20140498 (unless that's been changed)
12 Feb 2014 – "On the evening of 12 February, Downing Street was first made aware of a potential offence relating to child abuse imagery. It was immediately referred to the National Crime Agency (CEOP).  Mr Rock – who was deputy head of Downing Street's policy unit resigned on February 12.
13 Feb 2014 – Patrick Rock was arrested at his home in the early hours of 13 February, a few hours after Downing Street had reported the matter.   The arrest was not made public until details were published in a newspaper three weeks later……..
March 2014 -Shadow Cabinet Office Minister Jon Ashworth wrote to Cabinet Secretary Jeremy Heywood with the following questions about the case:
3 July 2014 – Rock is sent for trial charged with possessing indecent images of children. 62 images, assessed as being Level C, had been found on an iPad in North Carolina. (He had been living in the States)
No plea was entered on his behalf to the three counts of making indecent images, and one charge of possession between July 31 and August 31 the previous year.
Released on conditional bail after a hearing at Westminster magistrates' court  and the case was then transferred to Southwark crown court because of it's "complexity".
July 17 2014 – Rock spoke only to confirm his name during the 10-minute hearing when he appeared at a preliminary hearing at London's Southwark Crown Court. He was bailed to return to court on October 9.
He was due to enter pleas to the charges at Southwark Crown Court but the hearing was adjourned until 19 December 2014 as Rock was taken 'ill' 'overnight'.
Dec 19 2014 – Rock,  one of the government's chief advisers on online pornography filters, is accused of six counts of making indecent images of children and one charge of possessing 56 indecent images of children.
The charges relate to 31 July to 31 August 2013 when Rock was in the US. The images show girls aged approximately 10 to 14. They have been classified by Crown Prosecution Service lawyers as level three, the lowest category.
Rock was bailed to return to Southwark crown court for a pre-trial hearing on 27 February 2015.  Under his bail conditions, Rock must surrender his passport to police, reside at his home in Fulham, west London, and maintain contact with a welfare officer.
June 2015 – What happened to Patrick Rock?????
"It is drops of water that make a hole in the Rock." (Greek)