Follow up on FOI revelations
Dickens 40 page  November 1983 dossier to Leon Brittan contained 'allegations of paedophilia in Buckingham Palace and the diplomatic and civil services'.
This letter of 18 January 1984 from Leon Brittan to Geoffrey Dickens appears to confirm the story of a vice ring within Buckingham Palace?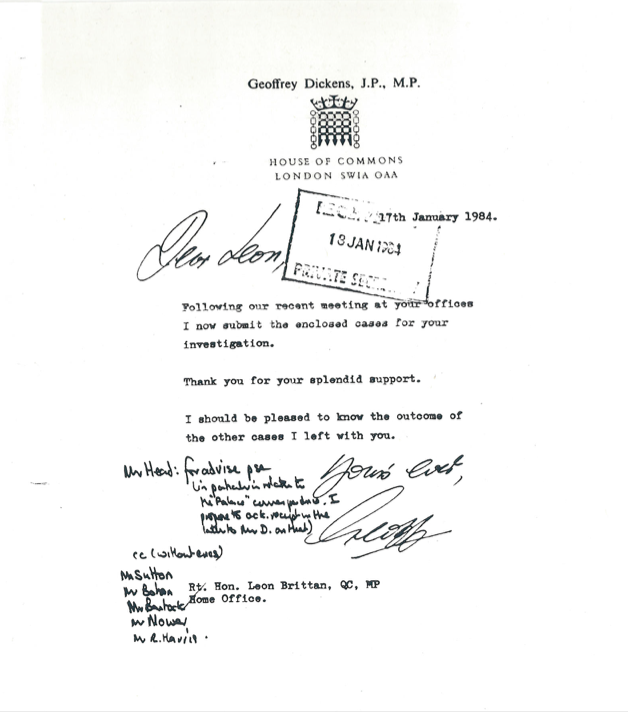 Leon Brittan's hand written note, on the above letter, suggests that he was well aware of the 'Palace' & PIE allegations
Mr Head: for advise pse (in particular in relation to the "Palace" correspondence. I propose to ack (?) receipt in the letter to Mr D. on that)
(I wonder what Mr Michael Head of the Criminal Justice Dept advised?)
As in?
Daily Express, 25th November 1983
A 2nd DOSSIER was handed over to Leon Brittan in January 1984 – and this one ran to 50 pages
via Spotlight
Daily Mirror, 19th January 1984
The January 1984 dossier contained information on the Paedophile Information Exchange, an organisation that campaigned to legalise sex with children, and gave details of 'sex assaults at a children's home', and named prominent paedophiles including a 'top television executive'.
A recently unearthed cutting from the Huddersfield Daily Examiner (19.1.84) gives more detail on the January 1984 dossier – apparently it also contains 'allegations of child assault at the ceremonies of religious cults'.
https://www.youtube.com/watch?v=G_QaYQj1ZdY
Oh – and to reinforce that Toe Sucker is suffering from a similar disability to Janner (maybe ATOS could evaluate?) P.I.E was never banned by the Government – in fact Leon Brittan was attacked in the msm for his lack of response. He awaited the DPP view ? So even after  5 dossiers, and a million signature petition  Leon Brittan, as Home Secretary, was unable to act?
The Daily Express, in a comment piece on 2nd September 1983
Sir Thomas Hetherington was DPP.
Articles via spotlight – to whom all researchers are deeply grateful